Dental Crown and Bridges Specialist in Fresno CA
Crowns and bridges are one of many treatment options available to replace missing, damaged or rotting teeth. To learn more about your tooth replacement options, including crowns and bridges,

contact

Dr. Gill, D.D.S. today to find out if you are a good candidate for treatment based on your individual situation. Call us for more information, or request an appointment online today!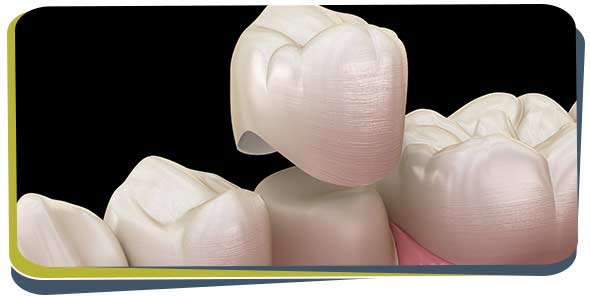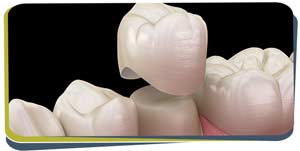 Table of Contents:
What is a crown and a bridge?
Why do I need a dental crown or bridge?
What is the difference between a crown and a bridge?
What can I expect during the procedure of a crown or bridge?
What is a crown and a bridge?

A dental crown is a cap placed over an individual's damaged or decaying tooth to improve the look of their tooth. Your dentist can also place a crown on top of an existing dental implant to replace a missing tooth. 

A bridge is a dental restoration option used exclusively to replace missing teeth. It is a device used by a dentist comprised of two crowns – one on either end – and a bridge of false teeth that rest in the gums to replace a missing tooth. 

Your dentist will fuse the crowns at the end of the bridge to your existing teeth. These teeth will need to be filed down correctly to allow for the crown to fit comfortably over top for a natural looking finish. If required, implant-supported dental bridges are also an option.  
Why do I need a dental crown or bridge?

Having a missing tooth or missing teeth can affect you in several ways. A dental crown or bridge can address those concerns by:

– restoring your smile
– restoring the ability to chew properly
– correcting your speech and pronunciation
– maintaining the shape of your face
– re-adjusting your bite to distribute the force evenly while you chew food
– keeping your remaining teeth in place and preventing them from moving out of their correct position

Dr. Gill can walk you through the options of tooth replacement, including crowns and bridges to help you determine what will be the best option for your individual needs.
What is the difference between a crown and a bridge?

Dental bridges and dental crowns have differences and similarities; they both use prosthetic devices to replace your lost tooth and restore your smile. Crowns are needed when things like a fracture damage a tooth. On the other hand, a bridge is what your dentist will use when you are missing a tooth. Dr. Gill is experienced in both crowns and bridges and will be able to provide an expert opinion on which option will be best for you.

Dental Crown

Your dentist will use a crown to fix a chipped, broken, or fractured tooth; crowns are commonly made of durable ceramic or porcelain. One of the benefits of a crown is that it is custom-made based on the patient's particular requirements. Your dentist will also carefully match the crown to your existing teeth's color and texture, for a natural-looking smile. 

To successfully perform a dental crown process, your dentist will need to file down and reshape your existing tooth to fit inside the crown. Any remaining decay on the tooth is then removed from the tooth's surface, and the structure is restored to support the crown. Following this, the crown will be placed on the surface of the tooth and cemented into its final position, significantly improving its strength. 

Dental Bridge

A dental bridge is a prosthetic device used for patients with missing teeth. As mentioned above, this dental restoration option is used solely in the replacement of missing teeth. It is a prosthetic device composed of two crowns – one on either end – with a bridge of prosthetic teeth (known as pontics) covering the space between the caps where the teeth are missing.

The end result is functional teeth that are exactly like that of natural teeth.
What can I expect during the procedure of a crown or bridge?

A dental crown procedure typically happens over the course of two appointments. Experiencing some sensitivity is to be expected, but don't worry; your dentist will likely give you an anesthetic to help ease the discomfort.

Getting a dental bridge will also require multiple visits to your dentist. Your dentist will first prepare the supporting teeth by shaping them and making room for the crown to fit over them. Then an impression of your teeth will be taken in order for the crowns to be custom-made by a laboratory. A temporary bridge will be used to protect your mouth in the meantime. Once it is ready, your dentist will be able to fit your new permanent bridge. To find out if you need a bridge or a crown, call Dr. Gill D.D.S. or schedule an appointment today. We are located at 7215 N First St Suite 107 Fresno CA 93720. We serve patients from Fresno CA, Clovis CA, Burness CA, Gordon CA, Calwa CA, and Easton CA.