Dental Veneers Specialist in Fresno, CA
Dental veneers are a cosmetic procedure that helps fix problems on your teeth from broken or chipped teeth to discoloration to other issues. Dr. Prabhdeep K. Gill DDS provides dental veneers to her patients that can hide chips and cracks in their teeth and improve their appearance!

Contact us

 for more information, or request an

appointment online

 today! We are conveniently located at

7215 N First St Suite 107 Fresno CA 93720

.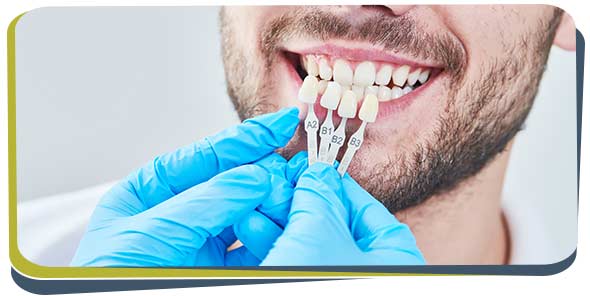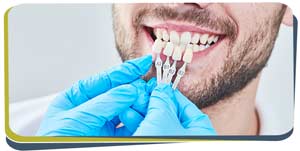 Table of Contents:
What are Dental Veneers?
What are the types of Dental Veneers?
What Types of Problems Do Dental Veneers Fix?
What can I expect during and after a Dental Veneer Procedure?
What are Dental Veneers?

Veneers showcase as a thin, tooth-colored shell that attaches to the front of the tooth to improve the look of the tooth's appearance. Often, veneers are made from substances like porcelain or even resin-composite materials that become permanently bonded to the teeth.

Dental veneers are known to treat several different concerns including chipped teeth, broken teeth, discolored teeth, and smaller-than-normal teeth.

Many of our patients come in with the idea of receiving one veneer to cover a broken or chipped tooth, but end up getting between six to eight veneers to create a symmetric beautiful smile.
What are the types of Dental Veneers?

There are many different options available for veneers, some options are available for different individuals' needs.

• Porcelain veneers
Porcelain veneers offer the least harmful material compared while offering the strongest and longest-lasting of all the materials available for veneers.

• Composite veneers
Composite veneers include a mixture of organic natural materials and inorganic materials including composite resin, initiator, resin, and coupling agent. This is a much less expensive option in comparison to porcelain but it is not as durable.

• Lumineers
Lumineers is a brand of veneers that are made from ultra-thin porcelain laminate material. It requires almost no preparation before placement. They are commonly used to treat teeth that are discolored and irregularly shaped teeth.

• Removeable veneers
Removable veneers are considered temporary veneers, or Snap-on veneers. There are two types:

• Custom-clip-on veneers
Provide higher quality removable veneers, these are completed by an impression on your teeth and then the impression is sent over to a dental lab to be custom-made to fit your teeth, and they are mailed back to you after.

• Instant veneers
Cheap veneers that are easily fitted to your teeth by placing them in hot water and pressing them to your teeth.

What Types of Problems Do Dental Veneers Fix?          

Dental veneers are used to cover the surface of the tooth to cover issues we commonly see with our teeth but keep them looking natural and long-lasting. The most common issues dental veneers cover:

• Discoloured teeth
Most over-the-counter teeth whiteners will remove stains, and brighten the teeth, but some can not do enough to help discoloration that runs deeper than the top layer. Veneers help by covering up unnaturally stained teeth without making them look unnatural.

• Gaps between teeth
Some may indulge in their gappy smile, others not so much. If you are self-conscious of your whistling gappy smile, veneers can help.

• Chipped or broken teeth
Once the chipped or broken tooth is repaired, you can hide the blissfully noticeable repaired tooth/teeth with veneers.

• Twisted or skewed teeth
Braces, aligners, and other teeth-straightening methods take time, expense and can sometimes need extra work which is not for everyone. Veneers provide a quick solution to your easy-to-fix problem.
What can I expect during and after a Dental Veneer Procedure?

First off, you will need to book a consultation appointment for veneers with or dentist. From there, you will be provided information, and be able to ask any questions about the treatment. A dental exam will be completed as well as several x-rays and impressions of your teeth to help with the treatment planning.

If you decide to move ahead with veneers, you will need to make another appointment. During this appointment, pick out the color depending if you are getting one or six to eight or more. As well, we will remove some of the enamel of your teeth so the veneers are able to be placed and will not protrude further than your natural. We will also take a second set of impressions to send off to the clinic to create your custom set of veneers.

Finally, on your next visit, the veneers will be assessed to make sure the size, color, and shape are exactly as you expected. If they meet your expectations, we will begin the bonding process of installing the veneers. A dental dam will be inserted into your mouth to prevent any saliva from getting onto the teeth that will be having veneers installed. We will then apply a gel base, then the dental cement to the back of the veneer, and apply each individual veneer to each tooth. We will use a curing process to have the cement cure and hold, so it can last in place for several years. Interested in dental veneers? Contact us by calling or simply booking an appointment. We are open and available by appointment Monday to Friday from 8:00 AM to 5:00 PM at 7215 N First St Suite 107 Fresno CA 93720. We serve patients from Fresno CA, Clovis CA, Burness CA, Gordon CA, Calwa CA, and Easton CA.