Implant Dentist in Fresno, CA
Dental implants can provide individuals with a permanent replacement for missing, damaged, or rotted teeth that look and act the same as their natural teeth.

Contact us

to learn more about dental implants and find out if you are a good candidate for treatment, reach out to Dr. Gill today to

book a consultation

. We are conveniently located at

7215 N First St Suite 107 Fresno CA 93720

.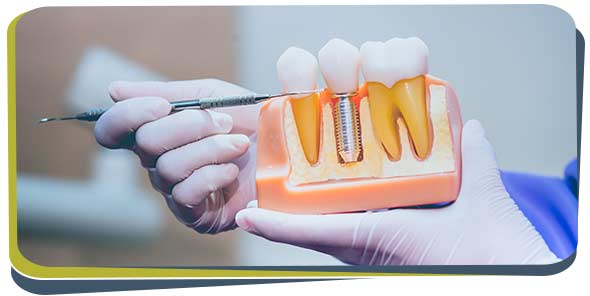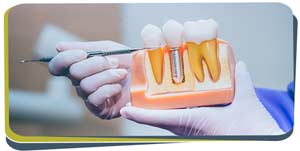 Table of Contents:
What are dental implants?
How long do dental implants last?
How soon after extraction can I get a dental implant?

What are dental implants?

If you are missing one or more teeth, then you may be considering your options for a replacement, including dental implants. Dental implants are a great option for missing teeth as they look, feel, and act almost identical to your natural teeth.

Dental implants use a titanium post in place of a tooth's root that an oral health professional, such as a dentist, periodontist or oral surgeon like Dr. Gill, inserts surgically into your jawbone below the gums. Once the implant post is inserted and has adequately healed, the new artificial tooth can be mounted onto it. The titanium post will fuse to your jawbone and become securely anchored, providing stability for your new tooth and ensuring the implanted tooth will function and perform the same as your natural teeth while you eat and speak.  
How long do dental implants last?

The lifespan of dental implants varies, and it can be affected by several factors. Although you might require replacement teeth at some point, the procedure is considered a permanent solution since the implant itself fuses into the jawbone. 

The key factors that will help determine how many years you get from your dental implants include:

How well you take care of your implants: Maintaining good oral hygiene is essential to prolonging the life of your dental implants. With proper care and regular dental visits, your implants can potentially last for the rest of your life.

Your dentist's skill level: Your dental health professional's skill level will impact the longevity of your implants. Using a dental professional trained and experienced in dental implants, such as Dr. Gill will ensure that the implants last as long as possible. 

Your lifestyle choices:  It is not just about your oral health; caring for your whole body will play an essential part in how long your implants last. Choices like poor diet, smoking, and drinking excessively could all have adverse consequences on your implants. 
How soon after extraction can I get a dental implant?

The amount of bone and tissue structures present will determine the period of time you need to wait to place an implant after your tooth extraction. A trained dentist like Dr. Gill can provide you with a comprehensive treatment plan that outlines the timing and steps needed for the best results of your dental implant.

Right away

In some cases, there is enough bone present around the extraction area to stabilize the dental implant in place securely. In these instances, your dentist may be able to place the implant immediately after removing your tooth. 

Through a process known as osseointegration, your dental implant will fuse to the bone in about 3-6 months.

2-3 Months after

Your dentist might feel that it is best to wait a bit before placing the implant after a tooth extraction to give your jawbone time to heal. This healing process will likely take between 2-3 months. 

Since two-thirds of bone resorption occurs within the first three months after extraction, a 2–3-month time frame is necessary. Once the implant is in place, your dentist will wait an additional 3-6 months to ensure the implant is healed and bonded with the bone before placing the prosthetic tooth.

Delayed placement

If you have insufficient bone at the extraction site, your dentist may first need to perform bone grafting before placing the implant. 

The typical waiting time is around 2-3 months. This timeframe allows the area to heal properly, after which time your dentist will secure your implant in place. Before your dentist can attach your permanent prosthetic tooth to the implant, you will need to wait between 3-6 more months.

Typically there are 3 types of dental implants:

1) Single tooth replacement: Use a single dental implant
2) Replacing several teeth: Use an implant-supported bridge
3) Replacing all your teeth: Use an implant-retain denture.

The cost of each procedure is different and depends on the complexity and the provider. So the costs of a single dental implant procedure tend to be from $2000 to $3500 (or higher), and also depends on the provider. Here at our clinic, we have affordable pricing and different payment options, and we work with most major health insurance providers and plans, many of which can cover the costs of dental implants. We also offer affordable self-pay options for patients without insurance coverage.

Dental implants are small, titanium fixtures that are surgically inserted into the jaw bone to restore or improve a person's smile. They provide a solid foundation for artificial teeth, such as crowns, bridges, and dentures, enabling patients to chew, speak, and smile without worry. Dental implants are the most durable and longest-lasting solution for tooth loss and can be used to provide a secure foundation for a full dental overhaul. This procedure offers a solution for those who are unable to tolerate traditional dentures. For more information, contact us or request an appointment online today! We are conveniently located at 7215 N First St Suite 107 Fresno CA 93720. We serve patients from Fresno CA, Clovis CA, Burness CA, Gordon CA, Calwa CA, and Easton CA.