Affordable Dentures Specialist in Fresno, CA
Dentures are prosthetic teeth and gums made specifically for your mouth by your dentist that substitute missing or extracted natural teeth. Dentures can help restore your confidence and improve your quality of life at a reasonable price. Dr. Prabhdeep K. Gill DDS and her professional team create long-lasting and affordable dentures to restore your smile.

Contact us

for more information, or request an

appointment online

today! We are conveniently located at

7215 N First St Suite 107 Fresno CA 93720

.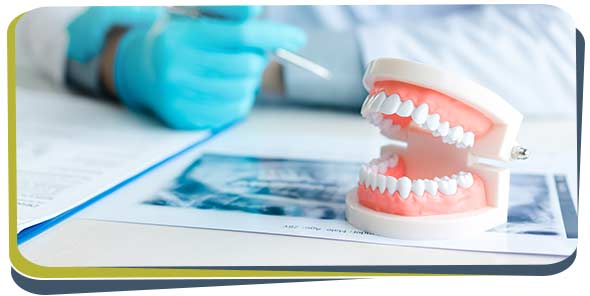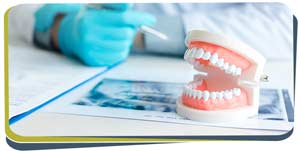 Table of Contents:
What is the purpose of a denture?
What should I know about dentures?
How long do dentures last?
How do you care for dentures?
Where can I get affordable dentures near me?
Dentures are an important part of maintaining a healthy and beautiful smile, especially as we get older. Most people are familiar with dentures because they have a grandparent or parent who uses them, but few understand the many intricacies involved in having dentures. While dentures provide countless benefits, one of the drawbacks of this dental treatment is its price; dentures are typically expensive, especially without insurance. Fortunately, modern dental offices offer affordable dentures, allowing more people to benefit from this tried and true treatment.
What is the purpose of a denture?

A denture is a prosthesis that replaces one or more missing teeth with the purpose of restoring form and function to a person's teeth and smile. Available in a variety of different styles, sizes, and materials, dentures are used to improve the appearance and capabilities of the mouth and throat, including eating and speaking. Dentures are also used to support the chewing and swallowing abilities that are affected by becoming toothless, allowing patients to eat and talk more comfortably. In addition to this, dentures are also used to treat a variety of dental problems, including tooth loss, tooth decay, gum disease, and nutritional deficiencies. They have the ability to improve the features of a smile, such as the position, size, and shape of teeth.
What should I know about dentures?

Dentures are a popular dental option to replace missing teeth, but there is much more people should know about dentures if they are considering this type of treatment. Important facts about dentures include:

• They require important care, and fortunately, it is quite simple: dentures should be cleaned a minimum of twice a day, which involves brushing to remove food residue; soaking overnight in warm water and denture cleaner, and brushing and rinsing thoroughly after soaking throughout the night. It is important to remember to care for the gums as well, which can be achieved by gently brushing them with a soft toothbrush or soft washcloth before inserting and after removing the dentures.

• Dentures can last a long time, and certain steps can be taken to keep them in great shapes, such as:
– Avoiding certain foods, including:
Coffee and tea
Chewy or sticky foods like caramel
Crunchy foods, nuts, and seeds
Hard-to-chew foods, like corn, apples

– Avoiding certain products, including
Regular toothpaste
Bleaching products

• Dentures are typically made out of hard resin, although they were traditionally composed of porcelain or plastic.

• They can improve the appearance of the teeth, mouth, and smile, while also restoring the function of the teeth and jaw.
How long do dentures last?

The length of time that dentures last is different in each situation and depends on several factors unique to each patient, including:

• Oral hygiene routine
• Overall oral health
• Self-care of dentures
• Diet
• Age
• Lifestyle

Based on the aforementioned factors, dentures are generally made to last between 5 and 10 years, after which time they typically need to be repaired or replaced. Denture wearers can increase the life expectancy of their dentures by maintaining proper oral hygiene and taking very good care of their dentures.
How do you care for dentures?

The care for dentures is very similar to the care for natural teeth, which requires daily cleanings of brushing and flossing. For proper denture care and cleaning:

• Take care of gums and teeth
• Clean dentures in water to prevent breakage
• Use a brush specifically made for dentures
• Always rinse dentures after brushing and soaking
Where can I get affordable dentures near me?

If you live in Fresno, CA, or the surrounding area, and are looking for affordable dentures, come to Prabhdeep K. Gill DDS. Our dental office is proud to offer quality dentures at an affordable price so more people can receive the care they need.

The dental professionals at Prabhdeep K. Gill, DDS, specialize in custom-fitted, high-quality dentures at a price that would make anyone smile. Call us or simply book an appointment. We are located at 7215 N First St Suite 107 Fresno CA 93720. We serve patients from Fresno CA, Clovis CA, Burness CA, Gordon CA, Calwa CA, and Easton CA.