Teeth Whitening Specialist in Fresno, CA
If you are embarrassed by the color of your teeth, whitening may be an option for you to be more confident with your smile. Visit Dr. Prabhdeep K. Gill DDS to discuss your options for a whiter, brighter smile. For more information,

contact us

today or

book an appointment

. We are conveniently located at 7215 N First St Suite 107 Fresno CA 93720.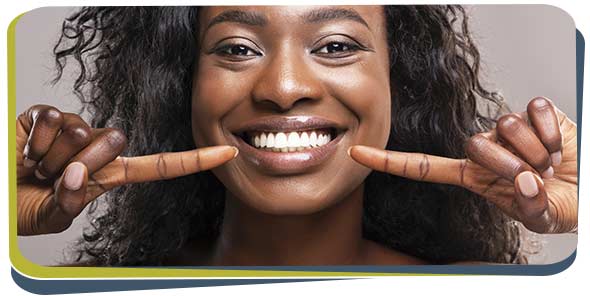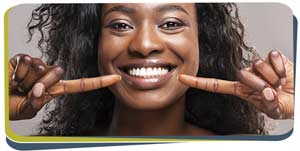 Table of Contents:
How does teeth whitening work?
How can I keep my teeth white after treatment?
What are my whitening options?
Is it worth it to get your teeth professionally whitened?
How does teeth whitening work?

There are several methods available on the market today to whiten teeth. Teeth whitening options include in-office whitening, whitening take-home kits from your dentist, or store-bought whitening kits. All of these options use peroxide-based whitening agents to brighten your teeth. The whitening solution your dentist uses, however, is more potent and works faster due to the higher percentage of peroxide found in the whitening gel.

There are many factors that can cause your teeth to become discolored. Certain medications, smoking, drinking coffee or soda, poor dental hygiene, trauma, illness, and certain diseases can all be contributing factors to discoloration. 

The good news is that teeth whitening is one of the most economical and fastest ways to enhance the appearance of your smile. Dr. Gill can provide you with the best recommendation to whiten your teeth based on your unique situation.
How can I keep my teeth white after treatment?

For best results, follow these tips to keep your smile bright and extend the results of your treatment:

• Brush your teeth regularly; we recommend doing this at least twice every day.
• Use a proper flossing technique at least once a day. If you're not sure if you are doing it correctly, ask your dentist or dental hygienist to show you.
• Avoid plaque build-up by using an antiseptic mouthwash at least once a day. 
• Using regular toothpaste works great, but we also recommend using a whitening toothpaste once or twice a week as a touch-up. The whitening toothpaste will help you remove surface stains, keeping your teeth white for longer.
What are my whitening options?

Whitening options vary, but all of them use peroxide-based whitening agents. The difference is in the application method, the time the treatment takes, and the amount of peroxide present in the solution. Teeth whitening can be performed in a dentist's office, at home using a take-home kit from your dentist, or by using a kit purchased at a drug store. A dentist, such as Dr. Gill, can provide you with a recommendation on the best and most effective treatment based on the cause and severity of your discoloration.

In-office whitening

This option is the fastest way to significantly improve the shade of your teeth in the shortest amount of time overall. 

Your dentist will be able to carefully monitor the relatively high concentration of peroxide-gel while protecting your gums and checking for tooth sensitivity at the same time. The end result will be a much brighter smile in just one visit. 

Whitening take-home kits

Ask your dentist if they have whitening kits that you can use at home; it is important to note that these are different than the products sold at your local pharmacy. 

These kits require custom-made bleaching trays to apply the peroxide gel solution.

Store-bought whitening kits

This over-the-counter option is the cheapest and most convenient of the teeth whitening options, although it may not be the fastest or most effective. 

Depending on the kit you buy, you will be using one-size-fits-all trays, strips, or paint-on applicators.
Is it worth it to get your teeth professionally whitened?

Getting your teeth professionally whitened by a dentist such as Dr. Gill is definitely worth it. Here's why:

• In-office teeth whitening ensures that the procedure is carefully monitored and controlled to get the best results possible and avoid tooth sensitivity and irritated gums. 
• By getting your teeth whitened through your dentist, you will experience a highly customized treatment tailored to your individual needs. 
• You will be able to achieve drastic results in one or two visits, depending on the level of discoloration you currently have. It is not uncommon to see a drastic difference because your oral health professional can get your teeth many shades lighter during your visit.
• Short on time? No need to worry. Your dentist or dental hygienist can achieve excellent results in a single, one-hour appointment.
• Dentists use highly concentrated peroxide-based whitening gel; due to this, the results of professional teeth whitening will be long-lasting. Good oral hygiene and aftercare are essential. 

Call Dr. Gill D.D.S. or schedule an appointment today. We are located at 7215 N First St Suite 107 Fresno CA 93720 to discuss your teeth whitening options. We serve patients from Fresno CA, Clovis CA, Burness CA, Gordon CA, Calwa CA, and Easton CA.